see how our vest compares to competitors
"My son Crayton absolutely Loves his Motocross Vest! Thank you motocrossvest.com for an amazing and comfortable product! This vest has kept him safe during crashes on his dirt bike which he thankfully walked away from unharmed."

- Laci Harris

"Motocross Vest products are incredible. It is lighter than other products, and provides top of line protection. My kiddo is very sensitive and correct fit is a must. It's adjustable to provide the perfect fit with his neck brace and helmet."

- Jessica James

"Kadin loves his motocross vest! He's had this one a couple of years and it's certainly took a beating but cleans up like new every washing! We do our best to promote this product cause it sure has saved our rider on more than one occasion! #proudtowearmotocrossvest"

- Karren Guffey

"Motocross Vest!!! Before my son started wearing one he had a nasty crash, took another kids handlebars to the ribs and it tore him open. Still has the scars 5 years later. Now neither one of my kids rides without one!! I am so grateful for this company, for the safety first mentality and incredible customer service!!"

- Kristina Roubison

"Bradyn's Vest took a foot peg @ 50 MPH (GoPro recorded) that's like a gnarly oversized bullet! Vest did its job, little sore & was able to keep riding the weekend. Thank you MotocrossVest for the Great Product!"

- Johnson Family
We Are so Thankful to Our Supporters. MotocrossVest.com has Delivered to 22 Countries to Date and Continues to Expand.

MotocrossVest.com has Set the Standard for Impact Vests Protection in the Moto Sports World.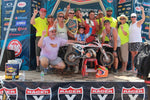 Become a Sponsored Rider
Join the Family! You don't have to be a top professional or amateur champion to get a little support, you just have to be passionate about power sports, and MotocrossVest!
Join Now